Click GO to Find
the BEST
AIR FARES!
Complete the info below to get more info on discount fares and Holiday Deals!
Queen Mary II(or any other cruise line)
This is not a completely money saving option, but from everything I've read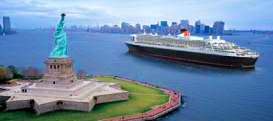 about the ship, this just might be the right place to spend a little extra. And that little extra might not be as much as you think. I've joined one of the cruise sites(there should be some listed on the right) that offer discounted rates. The lowest I've seen is $999 for a 6 day transatlantic crossing from NY to Southhampton, England WITH a one way ticket back to NY. That means you would just have to add the round trip to Athens(and you could potentially be at the $1500 mark for your trip to Greece! Not that much more than flights are going for to Greece!) So read on about what they say about this ship!(of course you can also look into other cruise lines and departures from other US cities)
With sweeping staircases, domed public rooms, full-circle promenade deck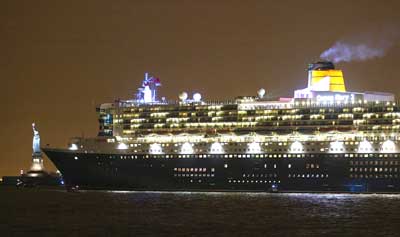 and elegant appointments, Cunard's Queen Mary 2 melds the classic grace of yesteryear's ocean liners and the ultimate in modern features. Accommodations range from standard cabins to expansive, lavish suites with private elevator access. Three-quarters of all staterooms have balconies. Dining is first-rate onboard QM2, as seven galleys service 10 restaurants, including the renowned Todd English restaurant, which overlooks the pool terrace. Kings Court offers a variety of dining alternatives in the evening. A string quartet plays in the elegant Winter Garden as afternoon tea is served with white-glove service. The 20,000-square-foot Canyon Ranch SpaClub offers stress-relief treatments and wellness classes.
Classic Cunard hallmarks weave throughout Queen Mary 2: sweeping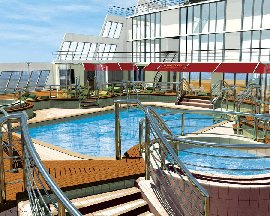 staircases, soaring public rooms, a grand ballroom, a 360° promenade deck. With one staff member per couple, Cunard's renowned White Star Service is also assured. The most anticipated ocean liner in the world also comes with an unprecedented cache of luxuries and innovations.
There is a stunning array of recreation, with unique venues such as Illuminations, a planetarium that serves as a lecture hall and cinema. Queens Room houses an elegant ballroom. Fourteen bars include Golden Lion Pub and G32, a disco. Decks 12 and 13 offer sporty fun: a putting green, shuffleboard, deck games, a giant chess board, two golf simulators, basketball and table tennis. Enjoy a performance at Royal Court Theatre or gaming in the Empire Casino. Throughout the cruise, Cunard Connexions offers enriching and educational workshops and seminars.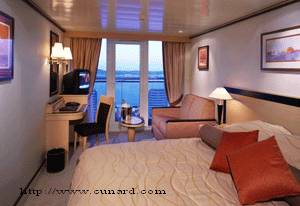 Three-quarters of her staterooms have balconies. Lavish two-story duplexes even have their own private exercise equipment. Exciting restaurants like Todd English and Cunard's renowned Grills create the premier dining experience at sea.

A space ratio of 57.25 makes her one of the roomiest vessels anywhere. Even that can't prepare you for the endless possibilities which occupy all this space - 14 decks of sports facilities, shops, bars, lounges, five pools and no fewer than 10 restaurants, a largesse which allows you the freedom to experience your own preferences and passions. Rejuvenate at the celebrated Canyon Ranch SpaClub®. Watch a "drive-in" movie. Or how about the classic British deck game of quoits?

Try something novel. Learn something new! Cunard ConneXions is almost like a college at sea, taking into account, of course, that you're on vacation. Or take a virtual ride into space at Illuminations, the only planetarium afloat.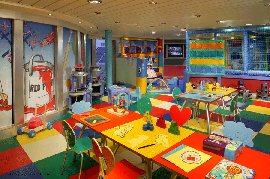 What would your child enjoy more?
11 hours on a plane or 6 days in the Kids Zone?