Getting to Greece Inexpensively- Putting the Strategies Together!
Well, it was time to go through the search process once again to get flights to Greece. And once again the flights were more expensive than I wanted to pay, so off I went into the search mode. Checking everything search engine I could find to try to get an idea of the fares. Everything I found for the Raleigh to Athens flights were over $1100 for travel in September of 2007. I usually try to put one ticket with FF miles or my Credit Card miles, but I was a few thousand short on the Credit Card miles and about 50,000 miles short with my Delta FF miles.(Delta was bragging about offering many more seats for the 100,000 mile level- but pretty much has gotten rid of the 50,000 miles.)
I started playing around with other cities and found that USAir had some flights around $600-700 to Italy. As I had a friend in Slovenia I wanted to see and thought it would be fun to explore Northern Italy a little on the way to Greece I decided to focus in on the flights to Italy. I thought that I would fly into Venice and then take the ferry to Athens. I didn't want to fly back to Venice on the way out, preferring to fly direct from Athens to the US(USAir now has direct flights from Athens-Philly). The open jaw flights from RDU-Venice and Athens-RDU ran about $2900(2 adults and my 2 year old daughter). By playing around with the dates I was able to get the price down to about $2750 which was not bad.
I decided that I wanted to try to find even better fares so I tried other European Cities(London, Rome, Vienna, Paris), but nothing dropped the fare until I tried Milan. The fare dropped to $2130 for the 3 tickets. This was vaguely reminiscent of the old days of flying, but I still had to figure out how to get to Greece.
I looked into the different Italian departure ports(Venice, Brendisi, Bari and Ancona) and weighed the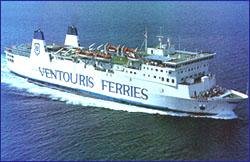 cost(starting a little over 100 euros for a cabin from the southern ports to over 200 euro from the northern ports) and travel time 13 hours from the south to over 24 hours from the north. The idea of a relatively inexpensive "cruise" was appealing(children are free on some of the ferries so you'd only pay for two adults in a cabin- airplane seats and deck class are even less if you want to save more money- but I was a little concerned about the comfort of my family) so I filed the notes away and then beginning looking into flights.
The only direct flights seemed to be from Milan or Rome and ran about $150 per person. That was a little more expensive than the ferry(We would have to buy 3 airline tickets, but only 2 ferry tickets), but it was a difference of 3 hours of travel time vs. 13+ hours. Another consideration was that we would be spending 1/2 to 1+ day of our holiday on a ferry which would take away from the time we spent exploring Greece or Italy.
We know had the getting to Greece options layed out but part of the puzzle was missing. We had to get from Milan to Slovenia, Venice and possibly the ferry. The original plan was to drive down the eastern coast of Italy and meet the ferry in one of the southern ports(Brindisi, Bari, or maybe Ancona). We looked at car rentals(again running various searches and getting quotes from about 10 different auto rental companies. We found that a one way auto rental to an eastern Italian port city, either raised the cost significantly or was not an option with some companies. This seemed to indicate that we would have to return the car to Milan to get the best value.
Since there was no ferry from landlocked Milan, we decided to search more fllights. We'd pretty much search all the major commerical airlines so we started to look at some of the discount airlines. We found the EasyJet web site and ran a search from Milan to Athens. Lo and behold we found a fare for 22.99 Euro plus 11 euro tax. A fare of 34 euro per person($45 dollars). I guess you can figure out what we did!
We rented a car for about $370 for the week, plus all our hotels and expensives so the savings were not that great over the flights directly to Greece, but we got a week in Italy plus flights to and from the US for a little more than what we would have paid for a flight directly to and from Greece.
Our flight into Milan arrived at 630am, and the flight to Athens left at 1230pm so we could have flown in and out on the same day which would have saved us close to $1000 on our tickets. So... spending time looking and a little creative thinking CAN save a lot of money!