Discount airlines in Europe From Wikitravel
This is one of the WikiTravel
Travel topics
Europe has a number of low cost airlines, the largest and most established being
EasyJet
(http://www.easyjet.com)
,
Ryanair
(http://www.ryanair.com)
, and
Air Berlin
(http://www.airberlin.com)
. These airlines have stirred up air travel within Europe by dramatically cutting fares. The European
Open-Skies Treaty
of 1992 blew the lid off the system in place before, where national government would restrict access to their airspace to expensive 'flag-carriers', such as
British Airways
(http://www.ba.com)
or
Lufthansa
(http://www.lufthansa.com)
. This enabled airlines to fly anywhere they wished in the European Union without government approval. The de-regulation of Europe's skies enabled a European airline run like Southwest to become a reality. Ryanair was the first airline in Europe to try this model, and now have many imitators offering low fares across the continent. These are boom times for low-cost air travel in Europe, and with fares on some routes as low as â,¬10 (£7, US$12) one-way
including tax
, millions are discovering the joy of travelling across Europe cheaply and quickly.
easyJet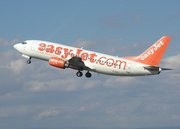 easyjet.com
(http://www.easyjet.com/)
EasyJet fares are priced as single segment one way trips. If you wish to change planes in a hub then you must book the two segments separately (meaning also that you collect your luggage and check in again at the hub). You can book a return at the same time as the outbound but you get no discount for doing so. EasyJet has hubs in 3 London airports (Gatwick, Stansted, Luton) as well as Paris (CDG and Orly), Berlin, Dortmund, Liverpool, Bristol and various other UK airports. As well as these hubs they serve 45 other airports throughout Europe, with 180 routes. EasyJet operate an ever-expanding network, keep your eyes peeled to their site. They have an extensive UK domestic network, and operate to and between large European airports. Unlike Ryanair, easyJet tend to operate out of principal airports, such as Barcelona and not Barcelona Girona, in Spain.
Ryanair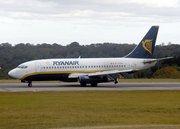 ryanair.com (http://www.ryanair.com/) Ryanair fares are priced as single segment one way trips. If you wish to change planes in a hub then you must book the two segments separately. You can book a return at the same time as the outbound but you get no discount for doing so. Ryanair operate a huge network in Europe, and are generally (but not always) the cheapest airline on the routes where they compete with another airline. They have hubs in Shannon, Dublin, Glasgow (Prestwick), Liverpool, London, Brussels (Charleroi), Frankfurt (Hahn), Stockholm (Skavsta), Milan Bergamo, Rome and Barcelona. They serve 82 other European destinations, with 209 routes. Ryanair is infamous for flying to secondary airports that may be hundreds of kilometers away from the city they purport to serve, so check carefully and factor this into your travel time and cost estimates.
Other low cost airlinesThere are 62 low cost airlines in Europe, and this number is rapidly changing. Here are a few of the biggest.
Low cost airline resourcesThere are some very useful websites to use when booking connecting low cost airline flights. One is
Openjet
(http://www.openjet.com/)
. This site will find the cheapest way of getting between the 91 cities served by Easyjet, MytravelLite, BMIbaby, Volareweb, Basiq Air, HLX and Germanwings. Another is
Low Fare Flights
(http://www.lowfareflights.co.uk/)
, this UK site compares budget airfares on over 300 european routes, originating from the UK only.
Applefares
(http://www.applefares.com/)
covers European-based routes: you can give it a range of airports or even countries, and find the cheapest flight to any destination on a range of dates. It searches the airlines that Openjet uses, plus Air 2000, BMI, Duo, Sky Europe, Sterling, V Bird and Virgin Express.
Skyscanner
(http://www.skyscanner.net)
offers a similar service with additional tools, such as fare graphs for a given route over a month and cheap weekend flights from any given city. Unfortunately Ryanair actively keeps its fares off any of these fare comparison websites, forcing users to go directly to ryanair.com. The most recent website in this category is
dohop
(http://www.dohop.com)
which cleverly composes multileg journeys based on low-cost airlines. Also of use are two information sites:
lowcostairlines.org
(http://www.lowcostairlines.org/)
which lists all 61 European low cost airlines (plus many other low cost airlines all over the world) and
attitudetravel.com
(http://www.attitudetravel.com/lowcostairlines/europe/)
which has country-by-country maps and information detailing all the low cost airline routes to and from each European destination.
cheap0.com
(http://www.cheap0.com)
is another good resource, and has up-to-date low-cost airline route news.