Use Your Credit Card to Earn Miles......
In our search to find that great trip to Europe don't overlook that little piece of plastic that has a tendency to plunge you deeper and deeper in debt. You're probably thinking, "what? and pay their exorbitant interest rates?" I don't suggest paying their interest rates because that could end up being a very expensive trip to Greece. If you're going to pay by check, then you might as well pay by credit card and then use your check(and it can be one check a month to pay off your credit card instead of 15-20 checks to pay each purchase or bill).
I use my credit card to pay everything I can. I've even gotten out of the habit of carrying cash. I pay any bills I can with it and charge everything I can when out shopping. That includes groceries, restaurants, hardware stores, bookstores- virtually any one that takes a credit card is welcome to mine. If you have a business, use your credit card to pay for materials and supplies- there's not telling how fast you can rack up the miles using it for business.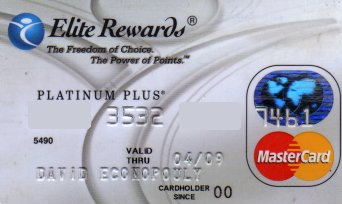 In as little as a year, you may be able to turn this little piece of plastic
into an airline ticket to your favorite destination!
There are a few types of cards out there but I usually stick with a low interest and free card. I have pretty good credit so I get all kinds of offers from Credit Card companies but some of them have offered pretty horrible credit rates.(18.99% for interest). I suggest you keep away from those-bad investment! With my card I have to spend $70,000 and then I get $800 towards a ticket- granted that's not the best deal but with it I'm able to get a free ticket to Greece every one or two years. There are other credit cards that will give you free tickets to your destination, many of which are offered by the airlines, but they usually have a yearly charge of up to $75. That will work if you are using it a lot, but if you're not racking up a lot of miles you have to add that to the cost of your "free" ticket, so your ticket gets less free-er every year!
There are new cards that are coming out now that offer cashback.... 1%-2%-3% and sometimes more. These can be a great way of making money back to pay for a ticket but be sure you can be paid in one lump sum and then put that money away for your ticket. If you get your money taken off your bill or paid monthly you'll never see it and in reality it will be paying for your airline ticket(by virtue of the money that's returned to you being used for other things so it frees up some money for your tickets) but it's not quite as rewarding as get that FREE or reduced ticket in one shot!
But remember, the real key to getting the free ticket is by paying off the card every month- if you're paying interest then it can become a pretty expensive ticket very quickly.
There are also different ways that the credit cards work. With mine I call a travel agent specified by my credit card company and they issue the tickets to me. With some credit cards you can purchase the tickets and they take the charge off your card, you'll have to check with the card to see what their method is.
Also, some credit cards tickets can only be issued on certain airlines approved by the credit card company-You'll want to keep that in mind also. I like having a card that uses all airlines since there may be places I want to go where the approved airline doesn't fly.
All the factors above become even more important when you are trying to get more than one ticket and you only have enough miles for a single ticket. You'll need to purchase the tickets simultaneously or you could have a major problem. Let's say you purchase your free ticket with your credit card for yourself- Great! Free Trip to Europe! So now, your next step to get matching tickets for your wife and lovely 3 year old daughter. You call the airline(or your favorite travel agency) and they quote you $4000 for the same flights..... whoops... there goes your savings(and more!).
You really need to understand the terms of your credit card airline tickets and then inquire as to a flight that will work for you. Once you have that information you can search for the same flight and see if is affordable through a web site, airline or travel agent. If it is then you go back and purchase both. If not, then you may want to try to search for the lower fares for your wife and daughter's tickets first and then go back to your credit card company to match it. Whatever you do- Don't purchase one blindly thinking you've gotten a great deal and then just go to purchase the others.
It's a similar problem that I hear about all the time when someone finds a GREAT deal to Europe(let's say...Paris)for only $499 round trip... and then they go to look for a matching flight to get them to Greece(where they really wanted to go in the first place) and they end up having to pay over $900 for a ticket because it's a "bad time" to travel. Result- no savings, extra aggravation and a lot of airport waiting time.
Don't put yourself on the same plane! Know your credit card rules and search for the tickets simultaneously- then purchase and enjoy your FREE trip.
Another thing to check on is the tax policy. In some cases you are responsible to pay the taxes which can be over $300 adding a hefty price to your "free" ticket.(and some airlines call their fuel surcharge a tax since it helps them to advertise a lower fare "plus taxes"-which aren't really taxes, but a fuel charge!).